Growers Notes... New Species or Not??

Research indicates such things as where a plant is grown, will or can dictate how it eventually looks, as well as its size and possibly even its chemical composition. For this reason, botanists such as Anderson have decided that a plant such as Lophophora Williamsii, encompassing such a vast territory in North America has many variations. For these reasons, instead of giving each variation a specific ranking within the genus, he simply groups them all together and states that there are many variations in colour, as well as ribbing within grouped populations. Furthermore, he states that such variations are not enough to warrant a new species designation. As we have learned from the research of others such as Bohata, there actually are a number of unique and substantial variations between localities, indicating the possibility of warranting the recognition of some newly designated species within the genus.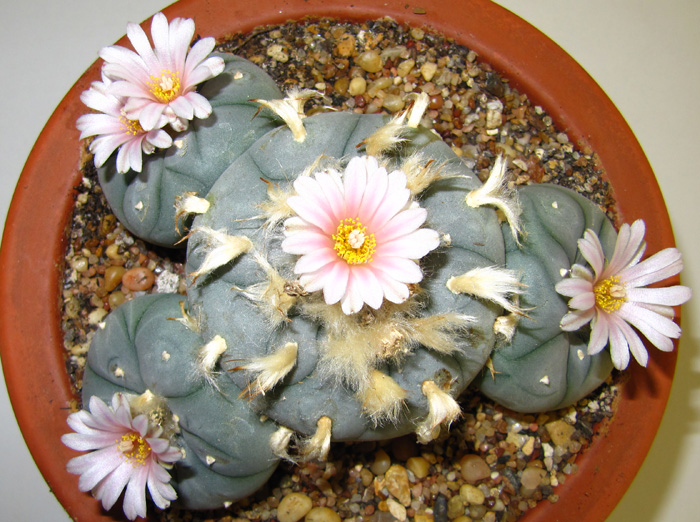 Above: Lophophora Williamsii with three mature pups.
As a grower of these fine plants, I am often asked about the differences I have found between the various species within the Lophophora family, along with the differences in plants with different locality information. The links on the left, will take you to pages dedicated to my personal findings of the plants I have been growing and researching with specific location information or somewhat accepted species designations. On these pages, you will find my forever growing notes with pictures on the differences I have noticed between batches of my own seed grown Lophophora plants. I will begin with the newly accepted variations within the Lophophora Diffusa family, followed by those within the Lophophora Williamsii family.
I hope these notes and photographs of my own plants eventually help other growers/researches further define the species within the genus as well as those just looking to grow or purchase their own plants, with the desire of having a nice variation within their collections. With time, more photographs will be added to each designation (photos speak much better than I do, as bad as my own photographic skills might be), so do return to the same pages you have already read for both photo and written updates as time progresses.
For a quick and easy cross reference I am using the same plant titles as those found on my "Seed Sales" page so that you can just click the "named link" on the left taking you directly to your specific plant of interest. The list on the left is not complete but will continue to grow with time, as I plant more batches of seeds from plants found in different locations throughout North America. As a final note, the reader should reference my Description of Species page for further designated species specific information.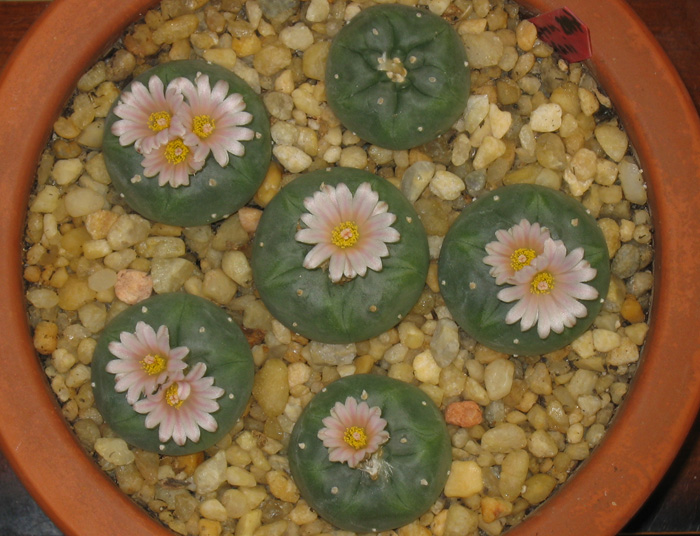 Above: Lophophora Williamsii rooted graft cuttings all from the same mother plant.