Growers Notes... New Species or Not??
Lophophora Williamsii
var. grandiflora

Here we have one of my favourite varieties, Lophophora Williamsii var. grandiflora. This variety is typically known for having larger flowers than the typical Williamsii plant but in my experience it very closely resembles that of the texana variety with few exceptions. Seeds for this variety have one of the highest germination rates and have also proven to be one of the fastest and largest growing of the Williamsii varieties (as depicted in the image of fiftenn month old seedlings ready for transplant at the bottom of the page), producing many flowers regularly along with seed pods shooting within three weeks of each flower. Unfortunately there is no known habitat for this variety, but is offered throughout the world by various growers.
Lophophora Williamsii var. grandiflora is one of the few Williamsii varieties known not to grow pups unless damaged. On the other hand, I do have about ten percent of my four year old plants beginning to shoot pups, as can be seen in the bottom right corner of the plant on the left of the picture found below. This variety is also recommended for the beginning grower due to its hardiness, allowing it to take greater temperature swings and greater extremes of watering without harm.
Above: Lophophora Williamsii var. grandiflora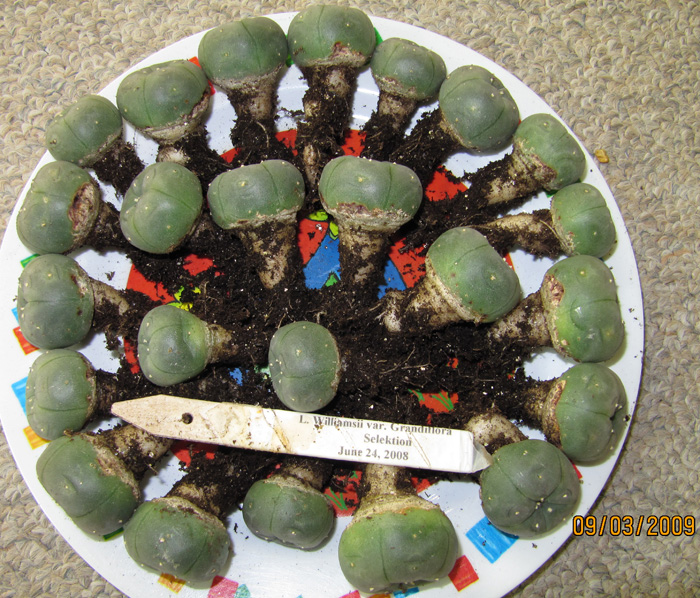 Above: Fifteen month old Lophophora Williamsii var. grandiflora seedlings