Growers Notes... New Species or Not??
Lophophora Williamsii
var. Camargo

Lophophora Williamsii var. Camargo comes from what is possibly the northern most locality of Williamsii plants within Mexico, found just outside the city of Camargo, in the state of Chihuahua Mexico. Plants are said to be found on limestone hills with volcanic rock prevailing. This is a real nice variation of Lophophora growing a little slower than some variations but with a nice light bluish gray ash tone to its skin as can be seen in the photo below. Very hardy and supposed to be self pollinating as it is of the northern variation of Lophophora Williamsii. It is one of my newest experimental plantings so an abundance of photos are yet to come.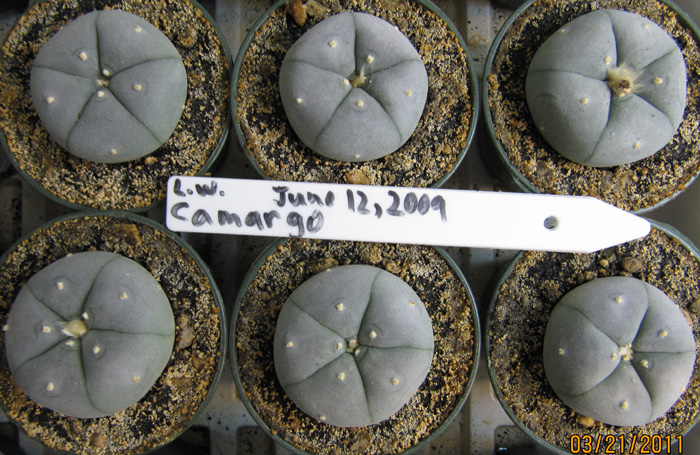 Above: Lophophora Williamsii var. Camargo seedlings
Here below we have a shot of a few L.W. var Camargo plants at three years and nine months. The plants are averaging over seven and a half centimetres in diameter. At almost four years of age I would have to say that this variation is a smaller or slower growing plant than some of the other variations but beautiful none the less, although my picture taking does not show it.
I have found that plants of this variation "L.W. var. Camargo" are slower to flower than many other variations of Lophophora, but they do seem to be self fertile as expected. Being very slow to produce seed in comparison to other variations, their rarity is explained along with the higher cost of seed for this variation. I will be isolating a couple of dozen for experiments in pollinization. One batch will be left alone while I cross pollinate another batch. The purpose of the isolation experiment will be to learn if cross pollinating will increase seed production as normally happens with each variation I have tried. It should be noted though that with generic self pollinating Williamsii variations that shoot seed pods prolifically it is very difficult to learn if cross pollinization has any effect of seed production by I believe I have proven to myself that seeds pods will contain more seeds when crossed than from those that rely on self pollinization. It should also be noted that whether or not a variation of the specie is self pollinating or self sterile does not have anything to do with the plants ability to produce mescaline or the percentage of mescaline the plant might produce.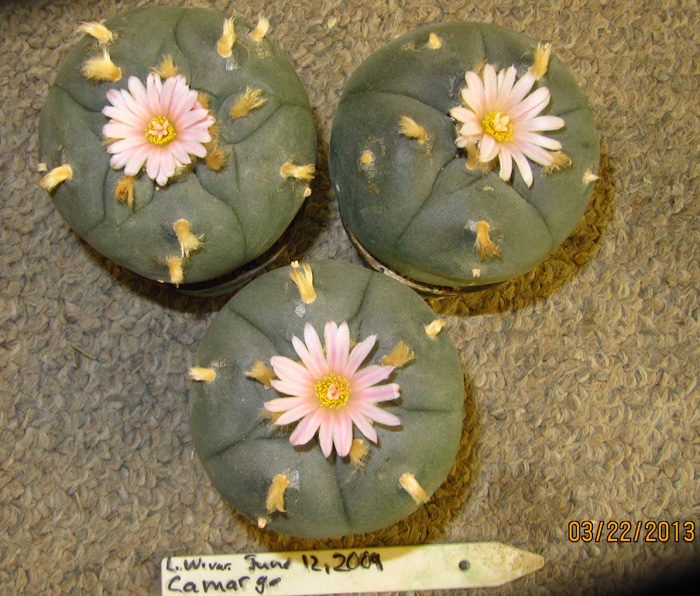 Above: Lophophora Williamsii var. Camargo at three years and nine months... 8 centimeters in diameter