Growers Notes... New Species or Not??
Lophophora Williamsii
var. Big Bend


Seeds are now available for this wonderful variation... see my Seed Sales Page!!

Lophophora Williamsii var. Big Bend from the area of Big Bend National Park in southern Texas is soon to be my favourite variation I believe. The plant seems to be legendary from the studies I have encountered, but unfortunately there hasn't been any found in its natural habitat for many years. It is said that one of the oldest rangers still working the park has kept the location of the last remaining plants secret, but fortunately there has been some propagation from early pickers. Others that have grown plants from this area consider it the hardiest of the Lophophora varieties in that they can take the most extreme of weather conditions and temperatures right down to between minus ten and minus fifteen degrees Celsius for short periods of time. This could also possibly mean that plants from this area are able to produce the highest percentage of the alkaloid mescaline, but that is something yet to be discovered to the best of my knowledge.
The seven week old Lophophora Williamsii var. Big Bend seedlings shown in the close-up here below offer a wonderful view of the tiny spines Lophophora is known to have in its early stage of life. The largest pictured here measures four millimetres wide. Soon enough the tiny spines will be replaced with small tufts of wool as the plant grows to maturity. If you look close enough you can still see a few seed shells stuck to the side of these babies.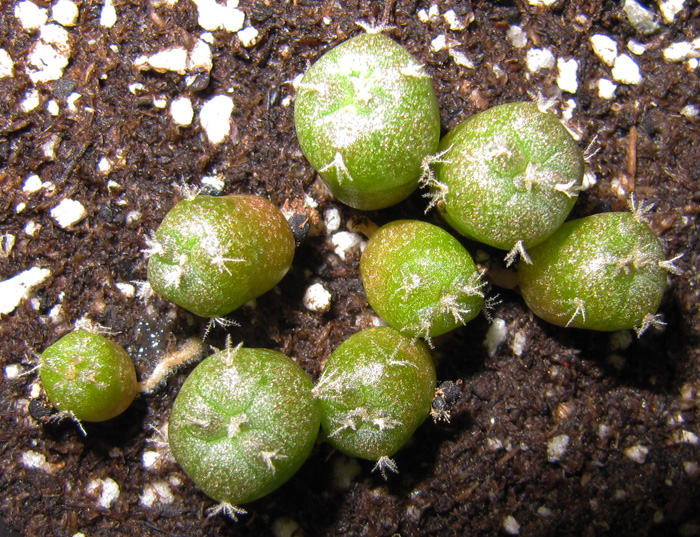 Above: Lophophora Williamsii var. Big Bend, only seven weeks old
As can be seen from the picture here below my trays of Big Bend seedlings have been coming along wonderfully. The pictured plants here below are about a year and nine months old. The majority of the seedlings have matured as can be seen by the flowers and soon should be sprouting fruit full of seeds. There has been a tremendous amount of enquiries for L.W. var. Big Bend seeds, and I am glad to say they will be available for the summer of 2014.
The largest of these L.W. var Big Bend seedlings measures 5.8 centimetres in diameter which is quite large for any Lophophora under two years of age so it will be quite interesting to watch and see how big these little fellas get.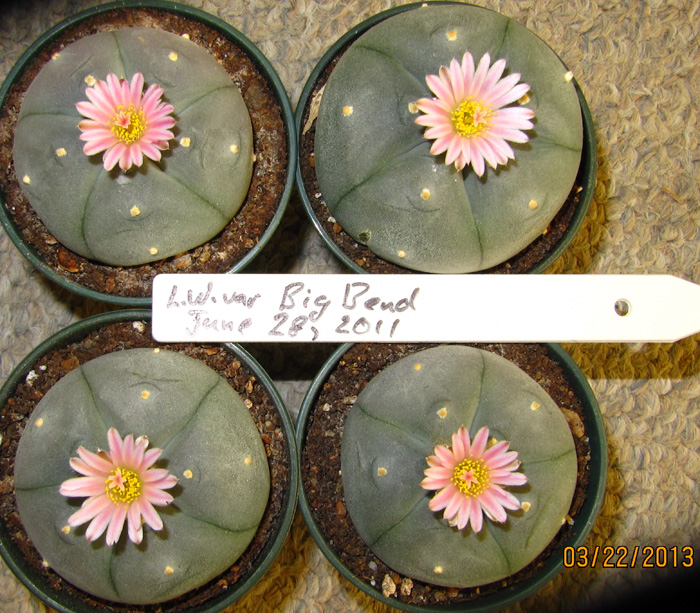 Above: Lophophora Williamsii var. Big Bend, One Year and Nine Months Old
Well it looks like this batch of Big Bend has had a major growth spurt this past summer with my largest now measuring a whopping 7.2 centimetres in diameter... very nice growth if I do say so myself.
As you can tell from the pictures above and most recently here below, Lophophora Williamsii var. Big Bend is quite unique in comparison to other variations. Not only is this the hardiest of the specie, it seems to offer one of the most colourful flowers I have found. The fact that most of the plants in my collection here all give the same bright striped color variation tells me that this is unique to the variation of Lophophora. I have encountered the odd Lophophora with such amazing colors but they have most often been from the Diffusa var. fricii variations. Keep reading to learn about more of the realizations I have made of this variation of Lophophora.
I have been learning a few surprising things about this variation of Lophophora which is why I haven't put any up for sale as of yet. For one thing I spent the past couple of years isolating this variation to maintain the purity of seed production... guess what everyone?... all the botanists guessed wrong on this one and obviously didn't study the variation... Lophohora Williamsii var. Big Bend, just like many other Lophohora variations are self sterile, meaning they require cross pollination to produce fruit. Now that I have assured myself of this I have begun cross pollinating, and the plants are finally producing fruit pods with seed. So I hope to have seeds listed for the Big Bend variation listed early in the new year. The demand is high, so my plants are going to have to work overtime to keep everyone happy. Then once I have caught up to the seed orders I will start putting some of these beauties up for sale... possibly by the summer of 2014.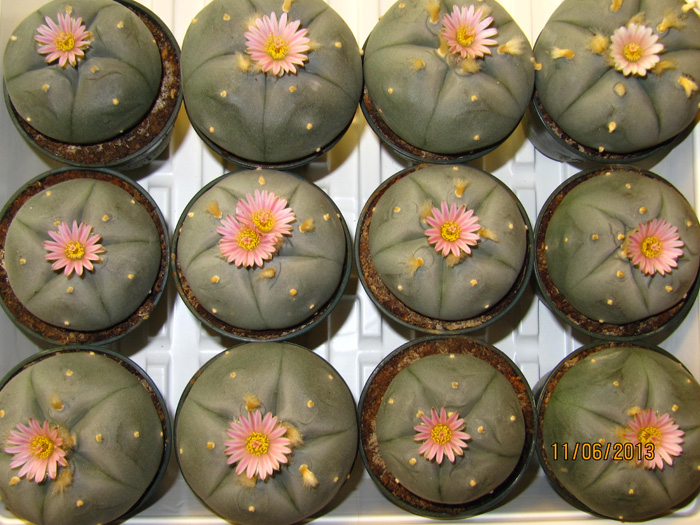 Above: Lophophora Williamsii var. Big Bend, Two Years and Five Months Old
December 14th 2015... So here is the latest I have to let you know about this amazing variation of Lophophora. the fire of 2014 that devastated my collection started and continued to smolder right under my batch of Big Bend plants. None the less, even though all the plants in trays around and above on other shelves had died, most of the Big Bend survived. Although it has taken them a while to begin producing seeds, they have outdone themselves and came back to wonderful growth and seed production. These plants have proven themselves to me that they are indeed the hardiest and toughest of all the Lophophora variation. Mind you they tend to grow much slower than all other variations, at about two thirds the speed of any other which means that they will be smaller than a peyote plant of another variation planted at the same time. Along with this, they are much slower at reaching maturity which explains why it has taken me so long to list this variation of seeds for sale as I did today. Taking into account the fact that they can take temperatures colder than all other variations and can also take the heat like no other, I think it is also safe to assume that this variation will have the ability to produce the greatest concentration of the alkaloid many are after... I haven't measured this fact but it is my educated guess.