Growers Notes... New Species or Not??
Lophophora Williamsii
var. Reynosa

Lophophora Williamsii var. Reynosa from the area of Reynosa Tamaulipas Mexico we have the most north-eastern known locality in Mexico, growing on the Tamaulipas Depression. Seeds germinate very easily and the variety has a very high germination rate. This variation does tend to grow a little slower and possibly a little smaller than the typical Williamsii variety with plants studied in habitat measuring no bigger than 8 centimetres in diameter. The variation looks quite unique though, growing shorter and flatter to the ground than most variations. They are known to grow predominantly as single headed specimens which has so far been demonstrated in my own collection of over a hundred mature specimens remaining singular. Also of great interest is the plants colour, which is very light in tone being more greyish blue than other varieties. The Reynosa flower is also a little smaller and more delicate looking, yet holds the typical soft pink undertone we have all grown to love and admire. Another noted difference from the typical Williamsii plant, is the rate at which seed pods spring up from under the dried flower shoot. Seed pods tend to wait till the plant is two to three years of age before regular pods begin to show themselves. On a more positive note, this variety has proven to be quite hardy, easily taking extreme swings in temperature as well as copious amounts of water and doing well when I am not able to get water to them for a few extra days. Highly recommended for both the beginner and enthusiast collector.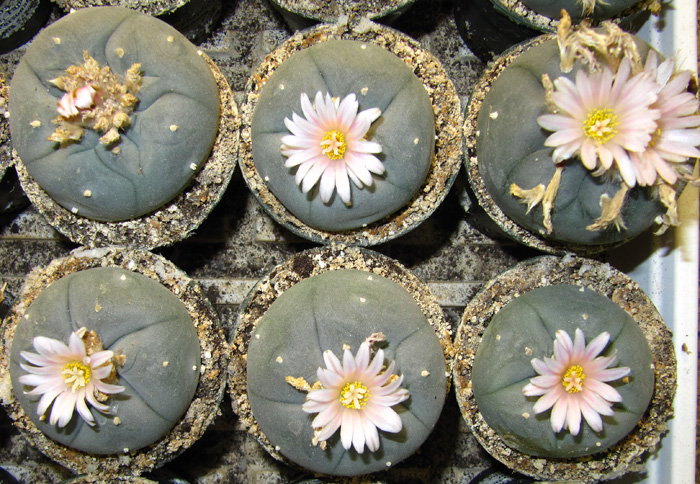 Above: Lophophora Williamsii var. Reynosa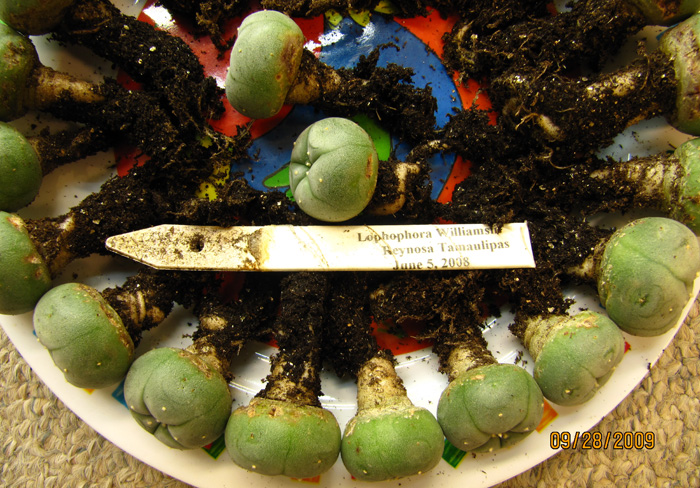 Above: Fifteen month old Lophophora Williamsii var. Reynosa seedlings from Tamaulipas Mexico
Here below we have a specimen of Lophophora Williamsii var Reynosa reaching full maturity just short of its fifth birthday. As shown this is an absolutely beautiful variation of Lophophora growing longer golden wool that most variations. They are quite hardy and flower on a never ending basis it seems producing many fruit full of seeds. The specimen here below measures a whopping 9.1 centimetres in diameter which is much larger than anything ever found in habitat and possibly a new record for the variation. As stated by Bohata the plant has so far proven itself to grow as a singular head specimen but only time will tell if pups decide to spring up, at which time I would be certain to report to everyone interested here.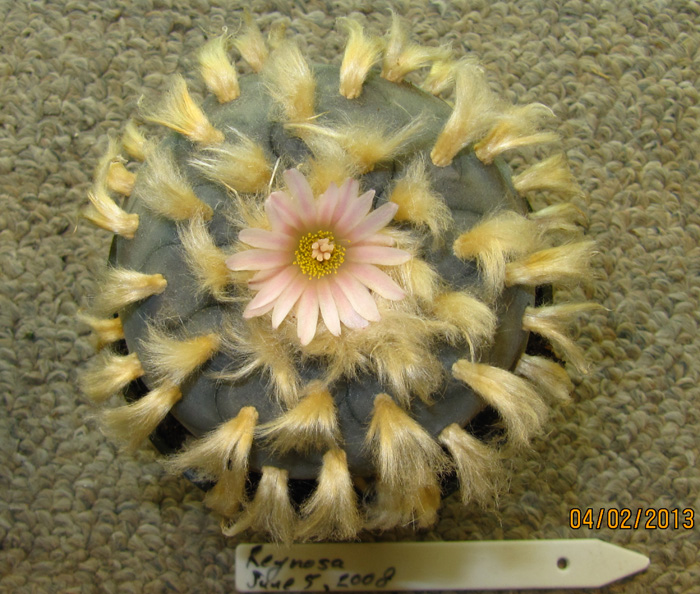 Above: Lophophora Williamsii var. Reynosa just short of five years of age and 9.1 centimetres in diameter from Tamaulipas Mexico