Growers Notes... New Species or Not??
Lophophora Williamsii
var. El Oso

One of my latest experiments comes from the plains of El Oso, just a little ways north of Cuatrocienegas Coahuila Mexico labelled Lophophora Williamsii var. El Oso. Pictured here below is a close-up of a few of my seven week old seedlings. The largest of these measures approximately five millimetres in diameter. For germination purposes seedlings are simply pressed down on the medium and nothing is added overtop. Seedlings begin to hatch within twelve hours and continue for seven to fourteen days. Often seeds hatch while laying on their sides or even upside down which causes the root portion to begin searching for the ground. As can be seen below three of the seedlings had this challenge and eventually found their way to mother earth and within a few days will have pulled themselves into a more stable position for further growth.
Lophophora Williamsii from this area of El Oso are of the northern type. This variety of Lophophora is considered to be among the largest of the Williamsii family with solitary specimens measuring as large as 14.5 centimetre in diameter. Plants with heads of this size are practically unheard of in habitat so I am very curious as to what the future of my seedlings will show. I will have a number of these available within a few months so keep your eye on my sales page for these little guys or enquire personally via email.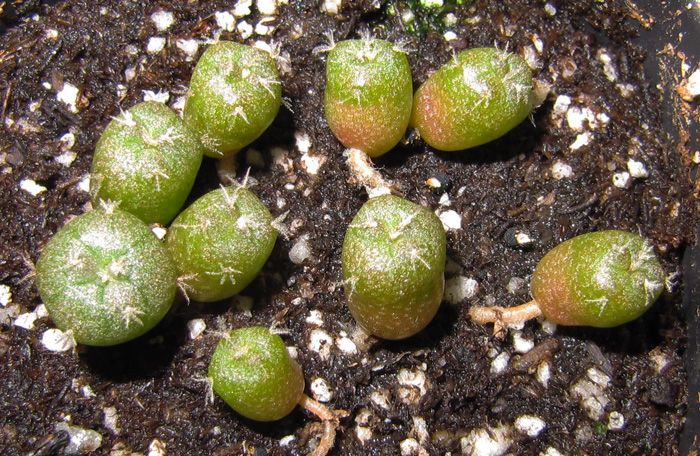 Above: Lophophora Williamsii var. El Oso, only seven weeks old
Pictured here below are some wonderful mature Lophophora Williamsii var El Oso specimens now at a year and ten months averaging 5.8 centimetres in diameter. I am finding them incredibly prolific and indeed self pollinating as these babies have been shooting seeds for some time now. The first plant flowered two weeks before its first year on this planet so I have big expectations for these little fellas.
This variation "L.W. var El Oso", is without a doubt incredibly unique compared to all the other variations I have been studying in that the flowers grow much smaller than the typical Williamsii plant. I have found that once Lophophora flowers for the first couple of times the flowers tend to be about half the size of a normally flowering full grown specimen eventually enlarging the flowers as the plant grows. On the other hand this variation has been consistent with flowers about half the size of a typical Williamsii plant, yet just as colourful if not a little brighter in tones with bright pink centres and white tips. The fruits of this variation are also a little different in that they grow short and stout at about a half a centimetre long, with a fair number of seeds averaging over ten seeds per pod. The typical Williamsii plant shoots seed pods about 2.5 centimetres long averaging only five to seven seeds per pod.
Can't wait to learn what time will tell me about these amazing plants, but I do look forward to learning if they are indeed the largest of the Williamsii family... I should learn this within the next two to three years the way these babies are growing. In the mean time I have a tray of these wonderful mature seedlings available for sale and I don't expect them to last long since these are supposed to be one of the strains that are most sought after.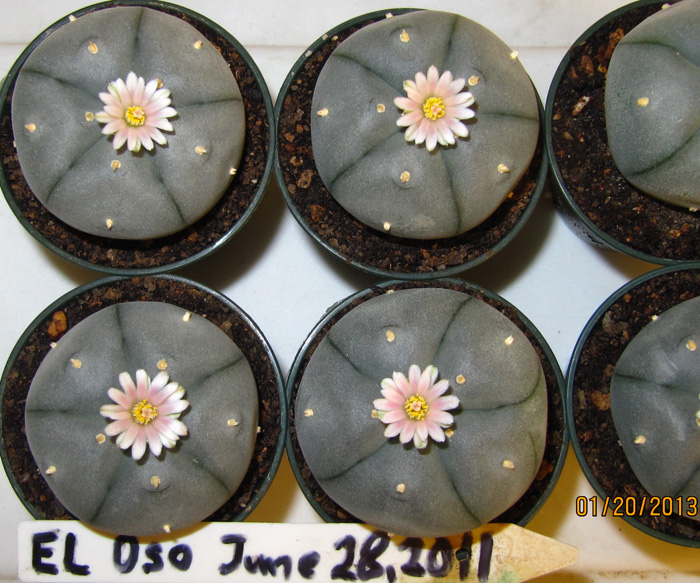 Above: Lophophora Williamsii var. El Oso, at one year and ten months of age measuring on average 5.8 centimetres in diameter