Terms and Conditions of Sale
All seeds are freshly harvested so that excellent germination is guaranteed. 
Notice!!! All prices are in Canadian Dollars!!               
There is a flat rate of $3.00 Canadian added for postage of seeds within Canada or $6.00 of seed shipments internationally, and $17.00 for shipping of plants within Canada unless otherwise noted. All others please contact for shipping and handling charges.
Plants delivered by mail will travel bare root.

Time of delivery: 5 days to 4 weeks
Payments can be made in Canadian dollars with Interac Email Money Transfers (This is a service provided by Interact and it's so easy to apply. See below.) Cash, Postal Money Orders, or Personal Cheques (preferably certified) made out to:

J. Frank Valente
56 Dewhurst Blvd.
Toronto, Ontario
M4J-3J3, Canada

Payments can also be made using your post office with instant "money grams". If sending payment using a "money gram" please use the following information.
J. Frank Valente
3126 McCarthy Crt.
Mississauga, Ontario
L4Y-3Z5, Canada
Interac Email Money Transfers Made Easy.
This is the fastest, easiest, and probably the least expensive way of making a purchase. All you need to do is go to your bank, and ask them to set up your account for online banking... it only takes them about five minutes, or you can do it yourself online. Then it's as simple as logging on to your banks website, clicking send money via email money transfer, provide a skill testing questions which you would send me the answer to for security... I then receive the email and click on deposit and I then send you your product. Just let me know what you would like according to item numbers as listed throughout along with the quantities of each item. Here is a link to the official Interac website for a demonstration to learn how easy it is.
Interac Email Money Transfer Website
Note on mescaline bearing cacti.
Hundreds of species of cacti contain various quantities of mescaline or other alkaloids, consumption of which has effects similar to LSD and/or other recreational drugs. All species and varieties in the genus Lophophora are best known as peyote and are in greatest demand by those who intend to use it as a recreational drug.  It is not illegal to sell, grow and posses the seeds or plants but because I am aiming to supply cactus hobbyists with seeds for growing the plants, not for eating them, I reserve the right to refuse to sell the seeds of the mescaline bearing cacti, where I suspect that the plants will be grown for consumption as a recreational drug.
Genuine cactophiles are very interested in the genus Lophophora because it is so unique in so many respects. This business wouldn't exist without the patronage of cactus hobbyist, thus their requirements must have priority over customers interested in experimenting with mind altering substances.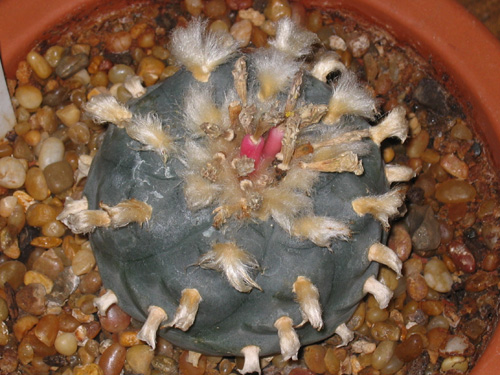 email: dr_frank @ magicactus.com
Mailing address:
Frank Valente
MagiCactus.com
56 Dewhurst Blvd.
Toronto, Ontario
M4J 3J3

© 2008, Frank Valente