Ariocarpus

Here you will find pictures and information on the genus of Ariocarpus found in the Chihuahuan Desert from the State of Texas all the way down towards Queretaro Mexico: Fresh seeds are available from my own personal plants for the species of Ariocarpus fissuratus, Ariocarpus kotschoubeyanus var. elephantidans, as well as Ariocarpus retuses.
Ariocarpus was first described by Michel Scheidweiler in 1838. As with many other cacti the name has been shuffled around to the point that we almost had it labelled Anhalonium but the final term of Ariocarpus was accepted around 1900. It is one of my most favorite cacti and widely collected among enthusiasts. It is a very slow growing plant which makes it difficult for some, since slow growth keeps them rather sensitive to water and temperatures when young.
There are six species of Ariocarpus in the genus: Ariocarpus agavoides, bravoanus, fissuratus, kotschoubeyanus, retuses and scaphirostris. I should note here that there are a few other sub specie such as Ariocarpus kotschoubeyanus var. elephantidens and Ariocarpus retuses var. trigonus.
Ariocarpus is described as a solitary plant often forming clumps low to the ground. The plants grow large tap roots while its stem is compact lacking ribs as well as being spineless with the exception of seedlings. Tubercles are as wide as they are long in most cases with tufts of wool seeping out of the grooves and flowers growing from its centre during the fall. Incredible flowers open during the day and range in color from white to pink and magenta. The plants are frost hardy to about minus ten degrees celsius so life in a greenhouse can be quite comfortable for them.
This first image here below offers a good example of how slow these plants grow. Pictures are some of my two year old Ariocarpus bravoanus seedlings before repotting. It has been presumed that these plants take between eight to twelve years to mature in habitat but with ideal conditions flowering can occur within two to five years.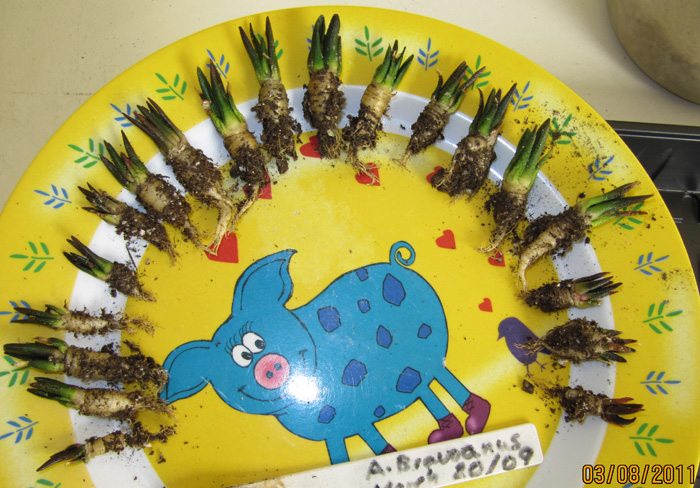 Ariocarpus bravoanus two year old seedlings
Growing Ariocarpus from seed is considered somewhat challenging mostly due to its very slow growth. The only cactus I know of that grows slower than Ariocarpus is that of Aztekium which pretty well stops time in its tracks. Great care should be taken with seedlings when repotting: roots should be tampered with as little as possible, and very good drainage is required. When repotting seedlings I recommend not watering for a good seven to fourteen days, and only a regular half dose of water for the first few weeks while roots rejuvenate themselves.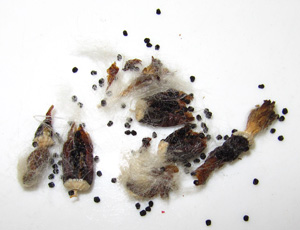 Ariocarpus fissuratus seeds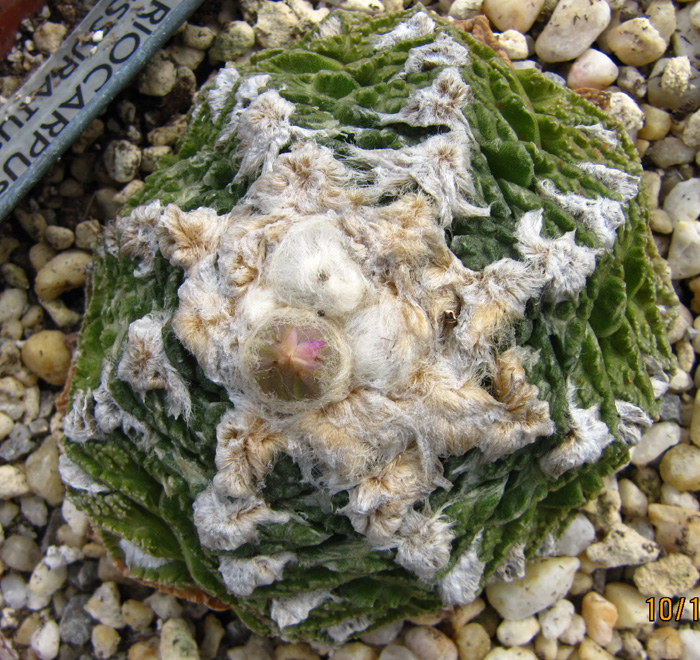 Ariocarpus fissuratus shooting its first bud for the season
Ariocarpus fissuratus is also one of the few known cacti to be used medicinally by tribes such as the Tarahumara Indians of Mexico even though it does not contain any psychoactive alkaloids that we know of.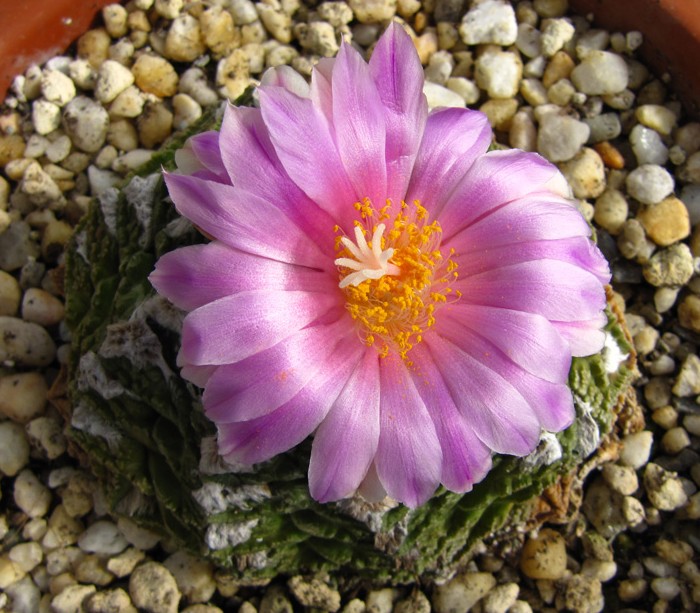 Ariocarpus fissuratus in flower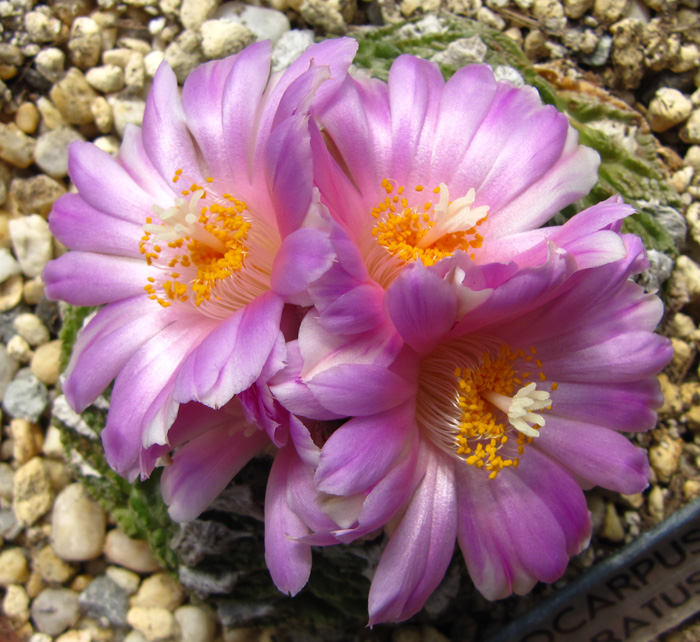 Ariocarpus fissuratus in full bloom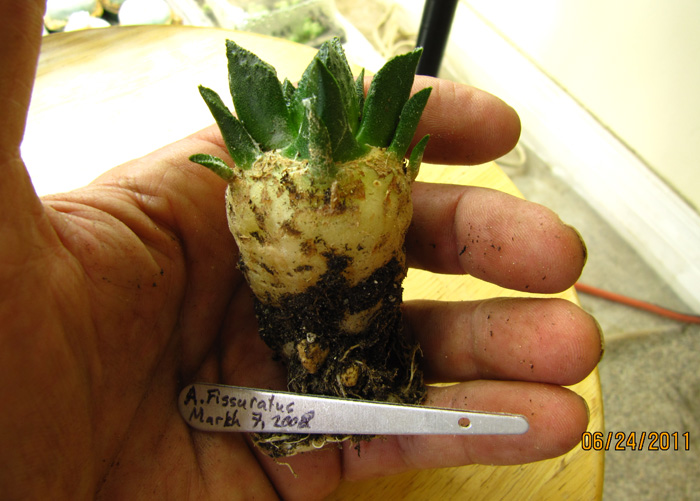 Ariocarpus fissuratus three year old seedling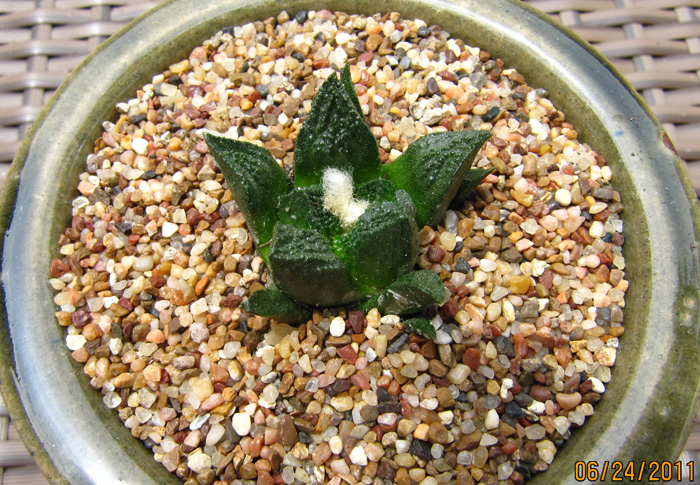 Ariocarpus fissuratus three year old planted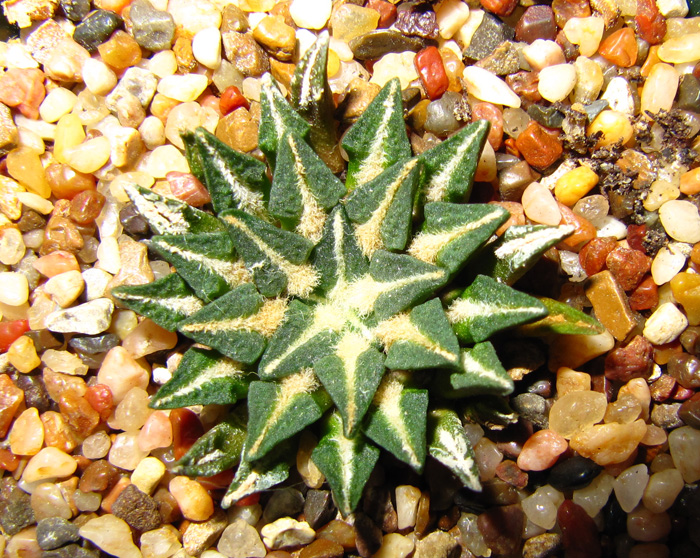 Ariocarpus kotschoubeyanus var. elephantidens seedling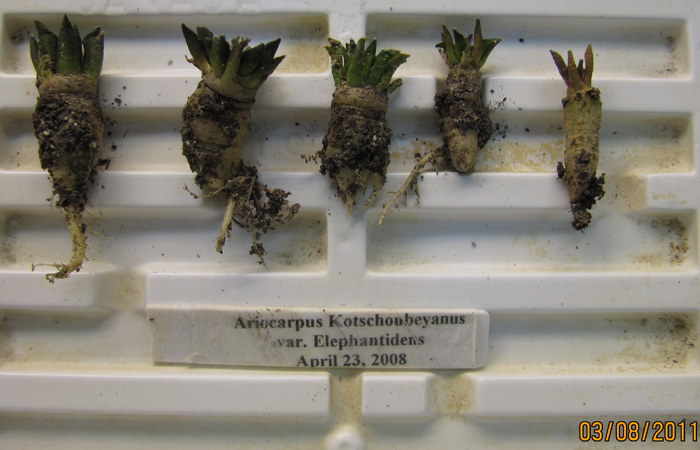 Ariocarpus kotschoubeyanus var. elephantidens three year old seedlings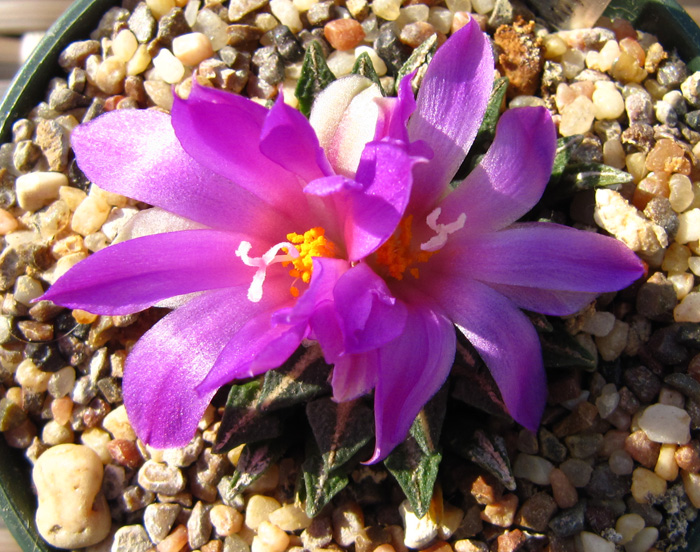 Ariocarpus kotschoubeyanus var. elephantidens three and a half year old seedling in flower
Ariocarpus Retusus seeds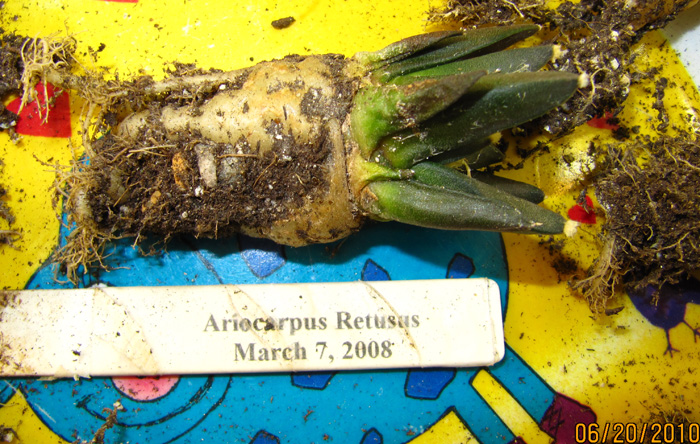 Ariocarpus retusus two year old seedling
Ariocarpus retuses is used by the Huichol Indians of Mexico medicinally but here again this plant, as its cousin A. fissuratus does not contain any psychoactive alkaloids.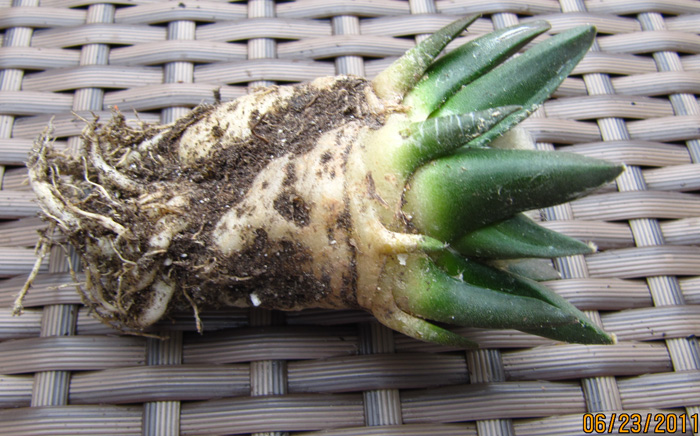 Ariocarpus retusus seedling now three years old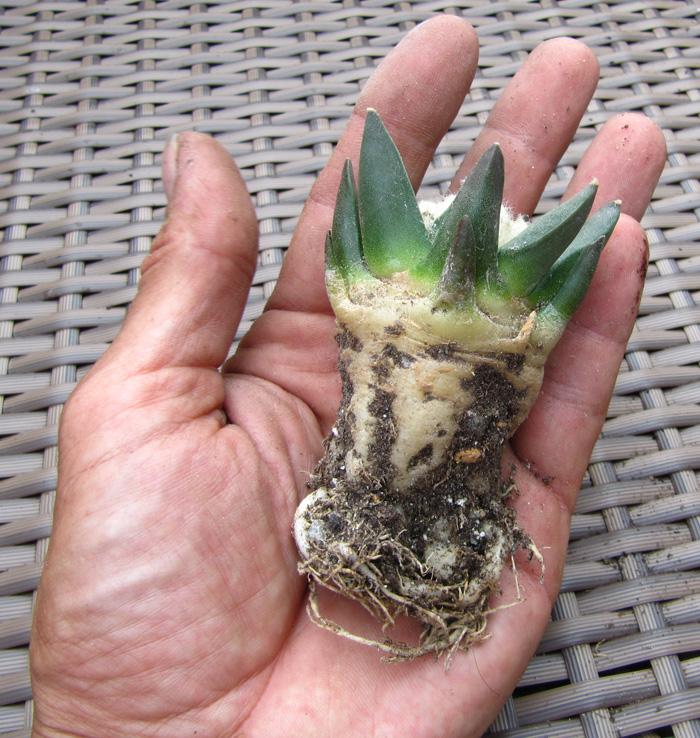 Ariocarpus retusus three year old seedling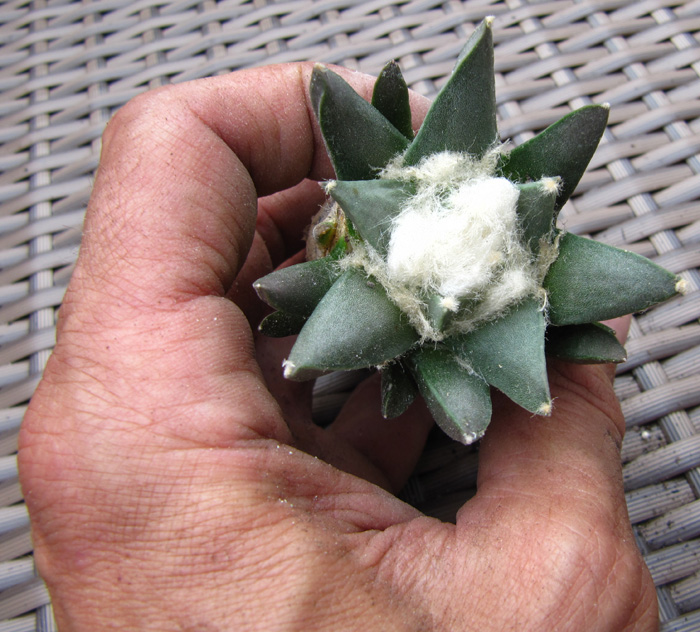 Ariocarpus retusus Three year old seedling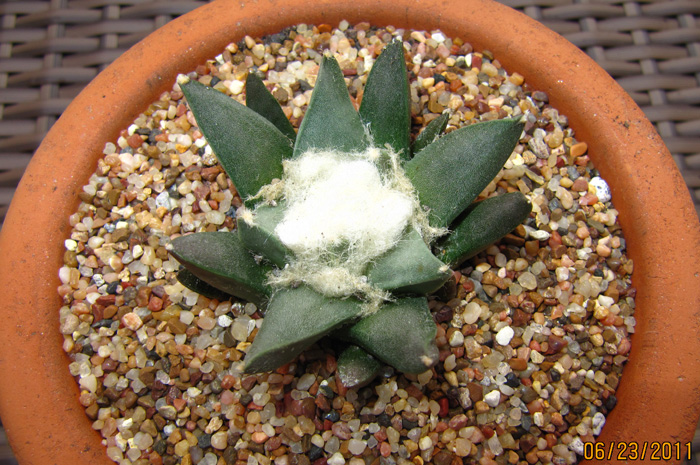 Ariocarpus retusus three year old seedling planted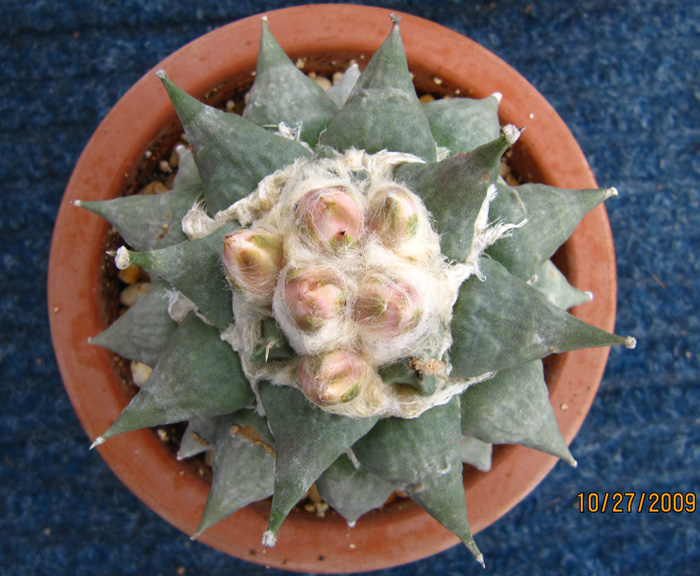 Ariocarpus retusus first buds of the season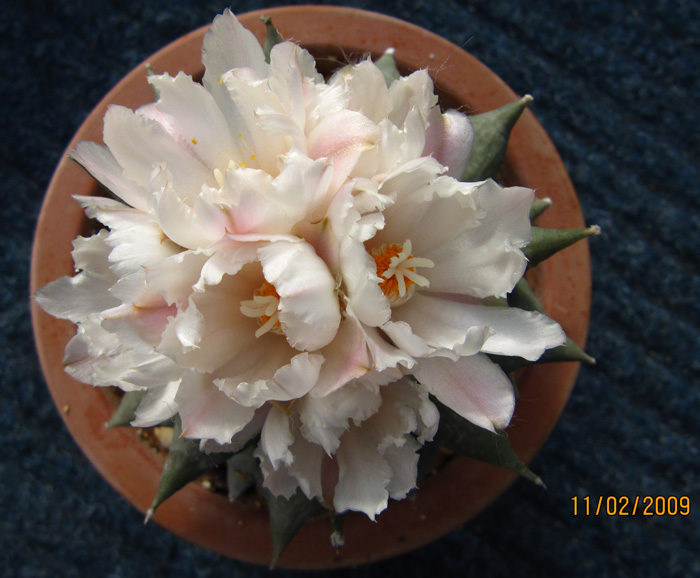 Ariocarpus retusus in full bloom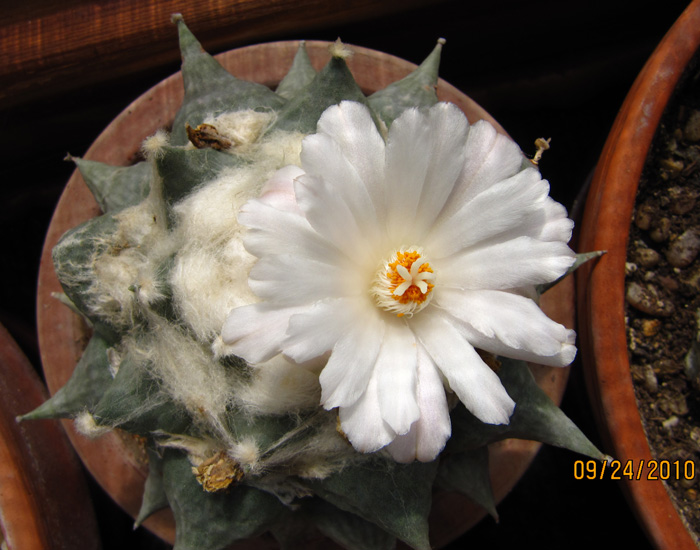 Ariocarpus retusus flower
Although I have never been a fan of hybrids or crosses in the plant world I have experimented a little with the crossing of Ariocarpus fissuratus with Ariocarpus retuses, and here below you can see some of the results. Hopefully this fall will be blessed with some of these crosses flowering, and I might even put some of these treasures for sale in the near future. For those interested in the naming of plants, once a plant is crossed with another an "X" is used between the two titles while the seed bearing plants name is used first as can be seen here below.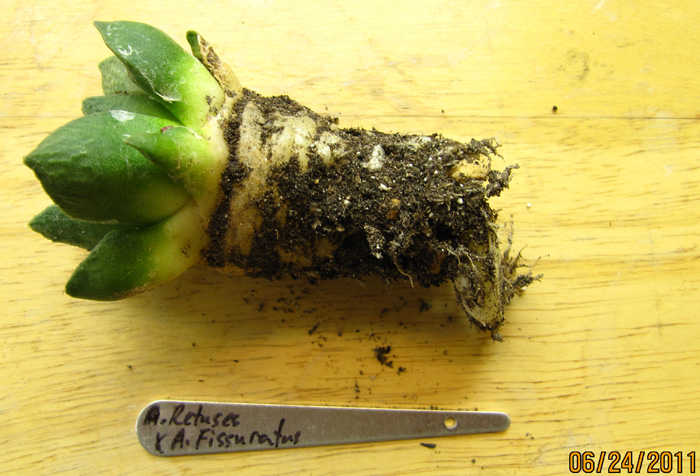 Ariocarpus retuses X Ariocarpus fissuatus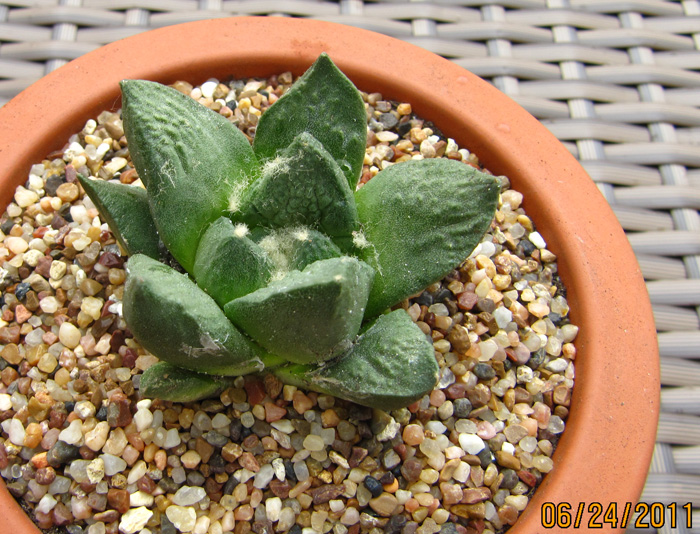 Ariocarpus retuses X Ariocarpus fissuratus
Most of the plants I have growing these days are sown from seed. Unfortunately not all seed suppliers are reliable and sometimes they also make mistakes. Here below is an example of such an issue which has taken me three years to realize. The pictures here below are supposed to be of Ariocarpus scapharostrus, but as I have discovered with the first flower I might have grown something else. The flower of A. scapharostrus should be magenta in color but as shown these seedlings have produced a white flower. Deductive reasoning tells me that these seedlings might very well be Ariocarpus retuses var. trigonus due to the longer tubercles and white flowers.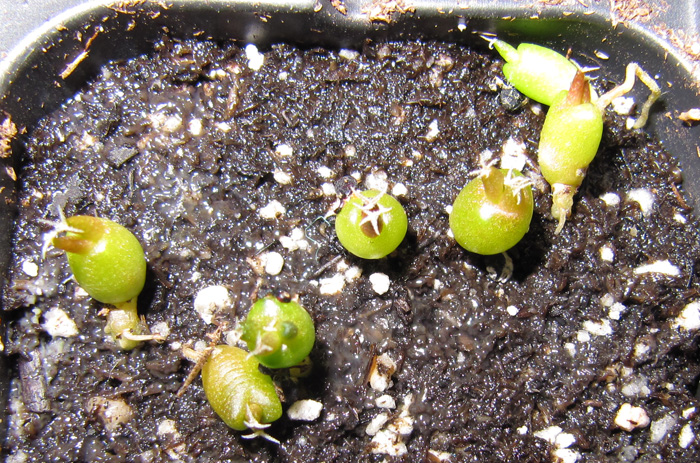 Ariocarpus scapharostrus two month old seedlings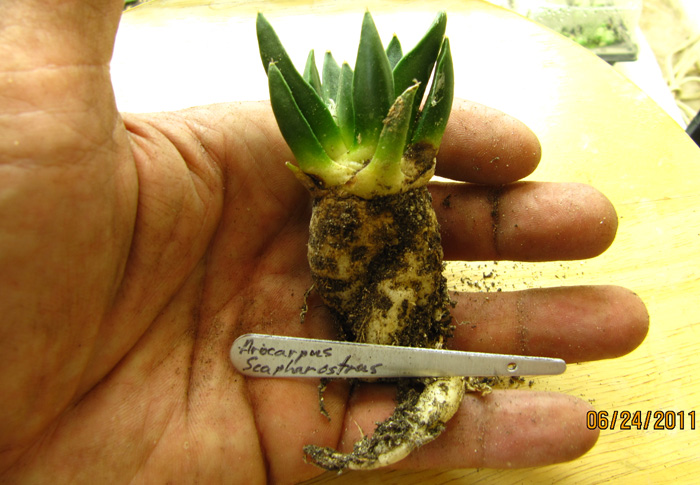 Ariocarpus scapharostrus (possibly retuses var. trigonis)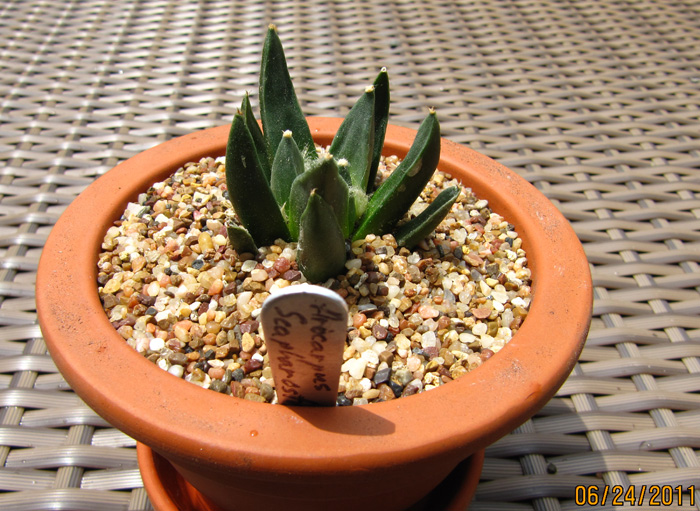 Ariocarpus scapharostrus (possibly retuses var. trigonis)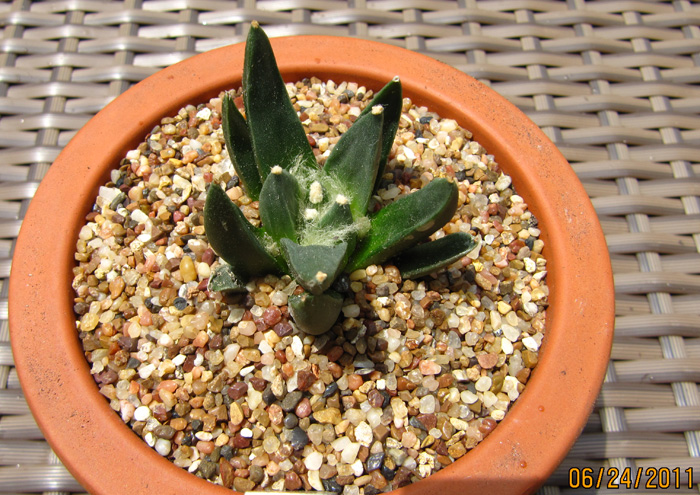 Ariocarpus scapharostrus (possibly retuses var. trigonis)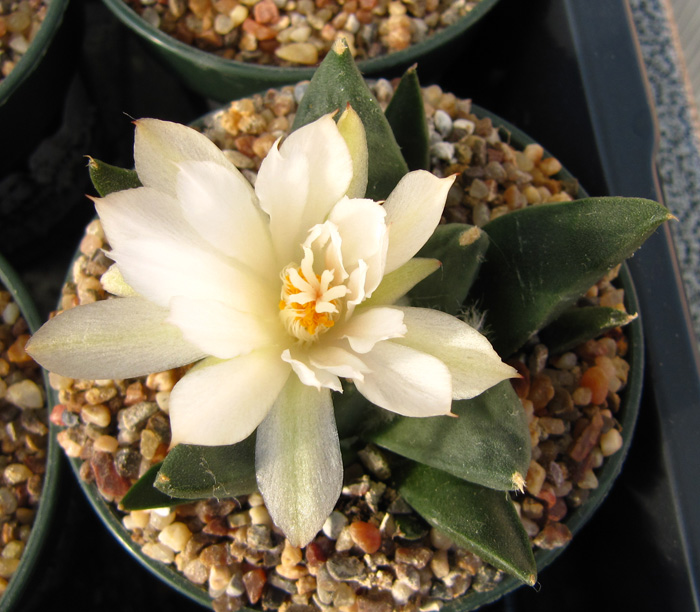 Ariocarpus scapharostrus two month old seedlings (possibly retuses var. trigonis)