My Other Favorite Cacti
Notice!! This new section is presently under construction and is something I will probably be adding to forever. For now, most of what you will find on the following pages are pictures of my personal plants with notes to follow.

Note!! November 19, 2013.
I have update each page in this section with notes as to which plants I have collected seeds for this year that I will have available to those with interest.
Prices will be as follows for all varieties in this section except for Tricocereus: $4.00 for batches of ten, and $25.00 for one hundred.
Seed supplies in this section will be very limited because I do not concentrate on cross pollinating my personal collection all that often... it only happens when I happen to be around when like plants are flowering.

Cacti have always been my favorite of tropical plants. They are indigenous to north and south America, grow in some of the harshest conditions known to man, and bear some of the most beautiful flowers on earth. Most species are compact making them easy to grow at home on a window sill, under lights or even better a greenhouse. They require much less care than most plants, and can take more abuse than most tropical's. For best results plenty of sun is required followed by warmth and nutrition.
In this section you will find pictures of my own personal plants along with information from my studies of these plants and personal growers notes. Most of the pages are presently under construction so until I have the time available, you will have to be happy with the pictures I have posted and minimal information I have written as I am very slow on computers. In some cases where I have been lucky enough to harvest seeds due to self or cross pollination with an identical plant of the same specie and variation, I will make those seeds available for sale or trade. By no means is this a complete listing of all available genus's or species of cacti, but as I said just plants from my own personal collection. The information and pictures available are something that I will forever be adding to as my plants and collection continue to grow so do keep coming back to learn and see more. For now, please be patient because this section is a work in progress and will be completed as time allows.
Notice to the reader!! If there is a specific cactus desired, or seeds for that matter whether you find it on this website or not, feel free to contact me and enquire about purchases or trades. As a collector of these amazingly interesting plants I am always up to making new purchases or trades of nice collectables, so feel free to send me pictures of what you have as well as any information you might have on the specified plant and we'll see what we can do. I must add that I have no personal interest in hybrids of any kind or grafted plants as interesting as they might be to you.
On the left you will find links taking you to pages dedicated to each genus of interest in alphabetical order. Overall I tend to follow the identification of cacti as listed by Edward F. Anderson in his bible titled "The Cactus Family" to avoid confusion. In some cases due to confusions caused by the many clumper's and splitter's in the field of Botany I have chosen to maintain a separation of species or genus's for my own purposes and preferences instead of following the most up to date decisions, but I will do my best to provide the reader with the latest information and updates on the specified plants I will be writing about including the up to date category the plant has been placed in as well as any synonym's, place of origin, and anything special I have learned through studies, and experimentation for growing healthier plants.
If anyone has information to offer on any of the plants listed here, as well as adjustments or corrections that should be added please feel free to contact me as I am not a labelled practicing botanist but just a lover, grower and collector of these beautiful and incredible plants.
I hope everyone enjoys what I have put together here, and that you keep coming back for more. Pictures will be added with time and they are my personal property so please respect that, as well as the notes on each Genus and specie.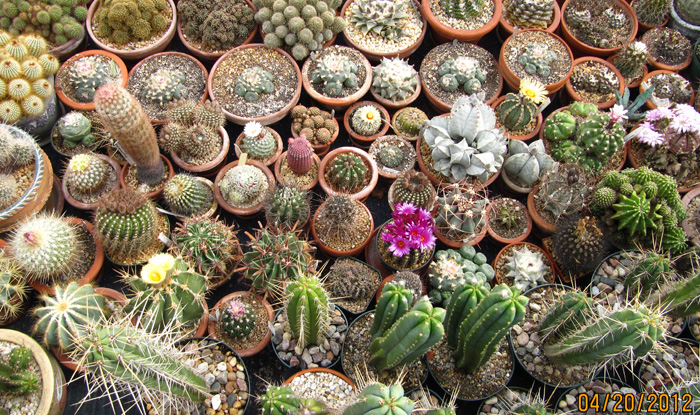 Some of my Cacti showing off some very early spring flowers