Cactus Show and Plant Sale

By The

Toronto Cactus & Succulent Club

The Toronto Cactus and Succulent Club invites you to its Annual Show and Sale at Allan Gardens in the heart of downtown Toronto on June 4th, 2017. The doors open at 10:30am and there will be a number of our members including myself selling some beautiful cacti and succulents that you will probably never find in any regular plant store at very reasonable prices. On top of that we will have a great number of beautiful show plants on display, and club members will be on hand to answer your questions and maybe even identify a cactus or two for you. It will be a fun filled day so bring the kids... kids always seem to love cacti... you will even have an opportunity to join the club if you like... Have a look at our show poster below or just click on the image for a direct link to the club's webpage providing further details.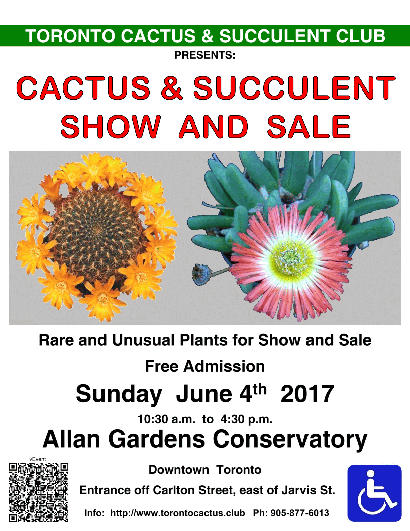 email: dr_frank @ magicactus.com
Mailing address:
Frank Valente
MagiCactus.com
56 Dewhurst Blvd.
Toronto, Ontario
M4J 3J3

© 2008, Frank Valente